You often get asked what is the brake hose assembly length by the brake hose suppliers when inquirying or ordering.The length can be measured from end to end for standard brake hose assembly with straight female fitting or male fitting.But if the fitting  of hose assembly is not straight,the metrical length is not correct for ordering or enquiry.Examples banjo fitting,bent angle fitting…It is important in hydraulic applications due to space restrictions. Here to show you the difference length and how to measure a brake hose length.
The length of brake hose generally be identified in two ways:overall length and cut length.Overall length (OAL) is also called work length that influence the application and price,it including the length of the hose fittings.Cut length is used in the production of the brake hose assemblies,it does not include the fitting length,is the hose length cutting.Only used for production.
The correct OAL is shown in the picture below.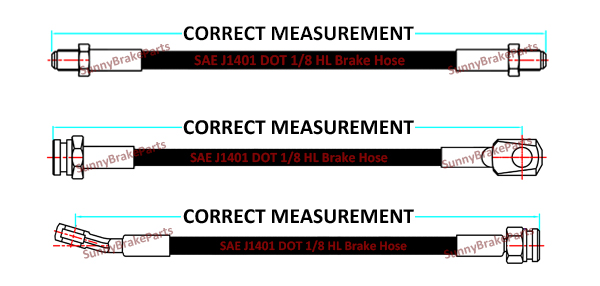 Straight Male Threaded Fittings/Female Threaded Fittings are measured from the end.
Straight Banjo Fittings are measured from the center of their ball surface.
Angled fittings are measured from the center of their sealing surface.
Contact with our technicist to get more help.Email: tech@sunnybrakeparts.com
Or leave your question,we will reply you within 24 hrs.Thank you!